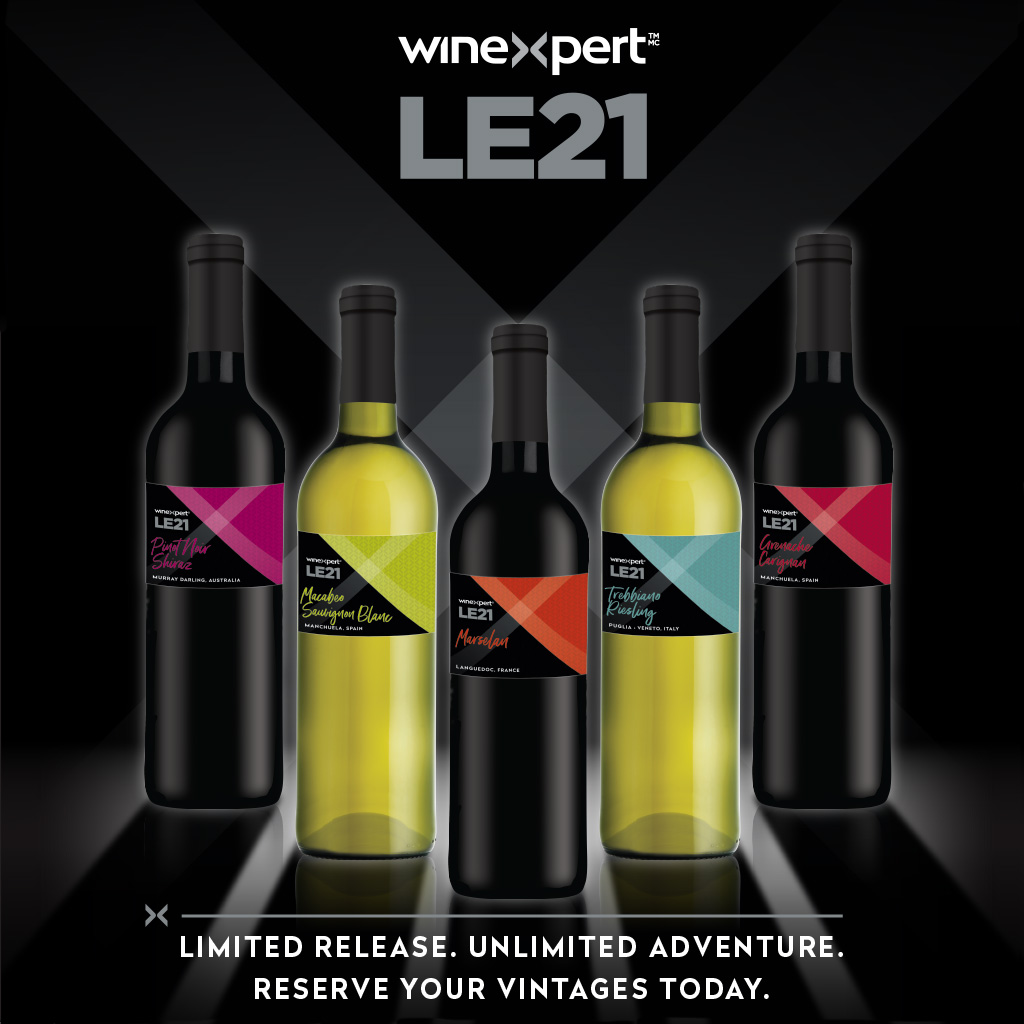 Limited Edition
OUR MOST SOUGHT-AFTER WINE MAKING KIT
6-8 WEEKS
14L | 3.7 US gal
MAKES 23 L | 6 US gal
Bottle labels included.
LIMITED RELEASE. UNLIMITED ADVENTURE.
Looking for a new wine adventure?
The Winexpert LE™ collection features limited edition wines of remarkable quality and distinction.
Explore the world's most distinguished wine growing regions with this exceptional series that celebrates the unique, the exciting and the very best – from classic varietals to exceptional blends.
Available by reservation only, this annual showcase features hidden gems in limited quantities. Our most sought-after and popular craft winemaking kit, it's a one-of-a-kind global adventure you don't want to miss.
From this box to your bottle in just 6-8 weeks.
Grenache Carignan – with grape skins

LE21

Ready in 8

RELEASE DATE: APRIL 2022

Grenache Carignan – Garnacha Cariñena in Spanish – is at once intense and harmonious. Deep ruby red with alluring aromas of blackberry, spice, and leather nuances. A provocative palate of black fruit,  cherry, red berry and plum with well-integrated oak and accents of licorice and spice. Rich velvety tannins, moderate acidity, and a long savoury finish.

MANCHUELA, SPAIN
The climate in Manchuela is ideal for reds; the inland region has a continental climate with high daytime temperatures and long hours of sunshine but is still close enough to the coast to experience cool nights thanks to Mediterranean winds. This temperature swing creates favourable conditions for red grapes to slowly ripen, perfectly developing tannin, colour, and varietal character. The resulting wines show excellent flavour, colour, and mouthfeel.

SIGNATURE FOOD PAIRING: Southwest Strip Loin with Skillet Succotash

ADDITIONAL FOOD PAIRING SUGGESTIONS: Grilled lamb, sausages, hearty winter stews

Alcohol: 14%*
*Alcohol level based on following Winexpert winemaking instructions.